What if we say? you can buy and sell things across the world without a middleman, avoiding additional taxes and restrictions. Yeah, it is Absolutely possible only by web3 eCommerce marketplaces. It has the capability of revolutionizing the eCommerce industry with its incredible and transparent features, which the existing eCommerce system lacks to provide. And moreover, the terms of trade are open, transparent, and immutable and there are no third parties to interfere. Also, it relies on smart contracts to process and finish the transactions, which is a key component of web3.
When it comes to integrating new technologies, e-commerce is one of the industries that set the standard to provide clients around the world with a smooth experience. The e-commerce industry is currently adopting web3 and its supporting technologies in 2023 to reduce the existing barriers between buyers and sellers and keep up with the evolving technological trends.
Let's probe every single feature of web3 eCommerce marketplaces and their impact on the industry in a detailed and structured way.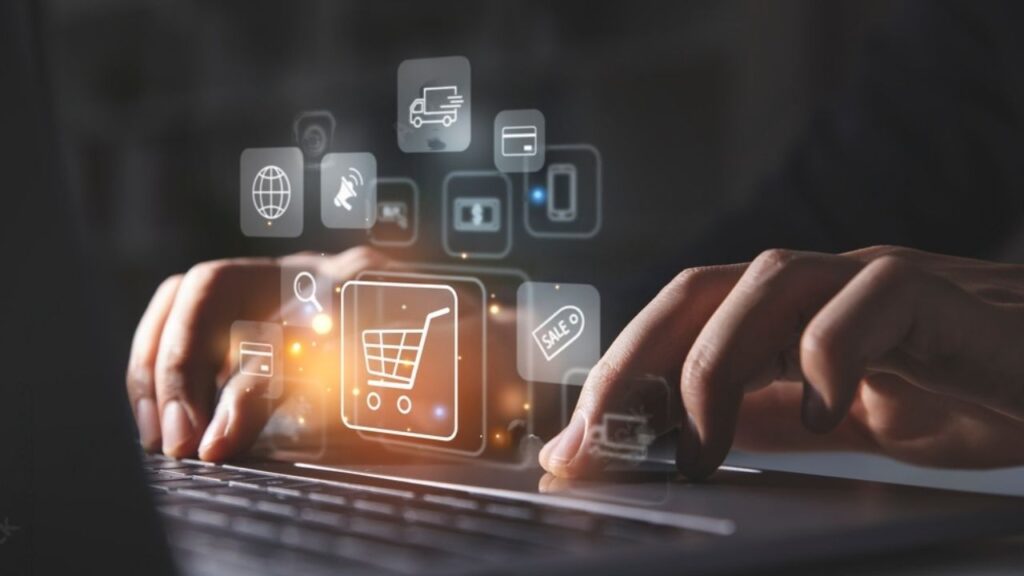 The reason behind the shift of e-commerce into web3
E-commerce is simple, purchasing, trading, and selling things through the internet, whether through a computer, phone, or specialized mobile app and it operates in a variety of market categories. Even Though it's a well-grown industry with a vast amount of users it has some major flaws which frustrate businesses and users. Data & Cyber Security, Security breaches are one of the most complicated issues in eCommerce, which impacts the privacy data of the user. Among the major obstacles to e-commerce are security, trust, and risk. Lack of a business strategy, culture, user authentication, and a lack of interest from the common public.
Also, some common threats of e-commerce businesses are fraud, malware, and other flaws are typical threats to e-commerce businesses in addition to the unauthorized sharing of data. Because of these issues, Businesses and users lost their interest and trust in the existing eCommerce industry, which made them take a shift into the web3 eCommerce marketplaces.
Web3 e-commerce marketplace
A Web3 eCommerce marketplace is an eCommerce platform operating on the blockchain. It allows users to buy and sell goods and services directly without an intermediary. Since there is no single authority or point of control for the market, this is made possible by the peer-to-peer network of the blockchain. The development of decentralized technologies like blockchain in recent years has reshaped e-commerce. Also, Smart contracts, which are self-executing contracts with the conditions of the agreement defined in code, are the foundation of decentralized marketplaces. As a result, transactions can be completed more quickly and effectively, increasing business trust and transparency. As the market of eCommerce business expands at high speed, technologies like web3 and blockchain can add fuel to accelerate the development of the industry.
Let's have a run-through of the features in web3 e-commerce and its impacts.
Utmost Transparency
Blockchain technology which is the core of web3 allows organizations and businesses to operate in a decentralized way. The technology relies on peer-to-peer networks or nodes and they are in charge of validating and executing transactions. Each node maintains a copy of the transaction's record when the validation is complete. As a result, a blockchain network manages transparency by maintaining a copy of the record of each transaction. At every level, blockchain technology improves transparency. Customers will trust sellers more as a result of their increased openness.
Additionally, vendors and suppliers will be more open with sellers, which will improve communication in that working relationship. One area where transparency can significantly help is in warranties. Suppliers, merchants, and customers will all be able to see the specific products covered by the brand's guarantee conditions, removing any opportunity for misunderstanding.
Transactions will be safer than ever
Blockchain technology is fundamentally more secure compared to the solutions now used by the majority of platforms. Online shoppers leave a particular online presence of their personal data, any of which could be hacked at any time. Using blockchain, this information is significantly more secure. This helps businesses protect the identity of their customers at all times. Blockchain offers better security than any record-keeping system, Each transaction is recorded using the consensus method after which the hashing algorithm encrypts it and connects it to the one before it, which enhances security. As a result, hackers cannot compromise transaction data.
Privacy
Web3 eliminates the need for "trust" or intermediaries to accomplish virtual transactions. And blockchain technology guarantees the security and dependability of payments.Web3 can also protect user privacy better since it is not dominated by large tech businesses that gather potentially sensitive data.Web3 helps to enforce user data security and integrity as its primary feature because it is built on the blockchain, requiring users to have private keys, if they wish to own a dataset. Additionally, because the blockchain's foundation is immutable, the data on it is similarly unchanging.
Trustless blockchain-based e-commerce
We would be able to transform the actual way of paying with crypto-supported apps, which is more secure than the existing way of paying from the bank. Also, avoiding technical errors and failures. Using cryptocurrency would be just as common as paying with credit cards or cash. That is unquestionably the case. We can achieve this with the use of web3 eCommerce. With blockchain and e-commerce merged, a new trend of purchasing goods in online shops through decentralized applications(dApps) will emerge, As it is one of the major use cases of blockchain technology.
dApps in e-commerce
While there are numerous third-party APIs in charge of processing payments, dApps have the potential to make the process peer-to-peer, obviating the need for centralized banks and third parties. As a result, it is simple to improve consumer engagement and experience. The new web form will benefit eCommerce from a transactional standpoint. Due to the complete decentralization of Web3 payment applications, no personal information is needed. Users are completely protected from hackers because of Web3's self-governance feature. Additionally, Web3 offers a transaction process that is quicker and less expensive.
Here are some existing problems solved by dApps for the e-commerce industry.
Faster payment processing
Despite the presence of numerous major international companies like Paypal and eWallets, transaction errors, slow processing times, and payment errors are common issues. With dApps, peer-to-peer transactions in e-commerce will be possible with remarkably low chances of transaction failures. There won't be any outside interference in determining a transaction cost, either, faster and direct transaction with the integration of web3 eCommerce business.
Structured supply chain
It is crucial that the product gets to clients more quickly in order to maintain the satisfaction of the end-users in mind. Using dApps, blockchain technology has the power to manage a vast supply chain. You can use it to keep an eye on the delivery process from the beginning to the conclusion. Therefore, if a product is mistreated, delivery can be rescheduled so that the end consumers are not impacted.
Decentralized Autonomous Organization (DAO)
A decentralized autonomous organization (DAO) is envisioned as a company that uses blockchain and smart contracts to automate business processes. DAOs will be the core of Web3, which speeds up online transactions and improves payment transparency, by eliminating complex business processes and pointless intermediaries. The adoption of DAOs signals an increase in the frequency of online transactions, which is positive for the eCommerce industry. The variety of opportunities that Web3 eCommerce offers will accelerate the market's expansion. According to Grand View Search, the CAGR for the worldwide eCommerce market is predicted to be 14.7% from 2023 to 2027. Additionally, the expansion of the market is anticipated to be accelerated by the rising number of small and medium-sized businesses in the eCommerce sector.
Decentralized finance (Defi)
Decentralized finance in e-commerce promotes greater brand advertising, discounts and coupons, and global access. DeFi-based e-commerce protocols are a profitable idea for every business. Customers can purchase products online with a sophisticated digital purchasing experience with deFi services.DeFi solutions for web3 eCommerce platforms include features like quicker delivery times, real-time supply chain tracking, a larger product selection, the use of interactive technological tools, a greater profit margin, and no third-party involvement. Also, lend money to businesses and extend an additional layer of security for their assets, improving chances for those companies.
DeFi and eCommerce could combine to bring unique solutions to recurring problems and improve the overall experience of online purchasing for everyone because the retail business has seen profound changes in operational activities in recent years.
Cryptocurrencies' role in web3 e-commerce
Businesses can accept cryptocurrency in addition to more conventional payment methods with Web3 eCommerce. Additionally, Web3 eCommerce will provide decentralized markets where users may decide what should be produced. It will be a community-managed market with complete user control and freedom of exchange. You can gain access to an entirely new market of innovation and forward-thinking consumers by accepting cryptocurrency as payment. These people have already developed a global community within the cryptocurrency industry.
You can access and observe bigger markets by choosing to pay through a digital wallet, transaction, or credit card platform, all while attracting customers from around the world. Using encrypted wallet addresses, cryptocurrency payments let users make purchases using an anonymous method. This anonymity enables customers to make purchases without exposing any personal information.
Future of web3 e-commerce
The future of e-commerce in Web3 will allow brands to shift their branding strategy and concentrate on user-centric experiences and flexible designs. As Web3 accelerates the transition to open-source software and utilizes blockchain technology as the primary engine toward a transparent internet, it is changing our lives. The future of e-commerce will be greatly affected by Web3 eCommerce development services. Brands and merchants may offer specialized, targeted content with purchasing capabilities through social media commerce. Web3 enables you to do this to retain brand awareness and increase brand loyalty to fuel e-commerce sales. With blockchain payments and security, Web3 can significantly reduce fraud.
Other technologies will enhance the user experience similar to AI and machine learning. These consist of virtual reality, augmented reality, and voice assistants. Customers now find it simpler to quickly and easily find what they're seeking and make purchases. They also increase the enjoyment of online purchasing and provide consumers a chance to engage with brands more deeply. The introduction of the Metaverse is one method in which we have already noticed this evolution. Brands are already competing with one another for the right to sell their goods online in the Metaverse.
Wrapping up
The decentralized web intends to resolve the problems with the existing web version. New standards in e-commerce may be anticipated with a larger choice of alternatives for customers as NFTs continue to blossom and AR and VR gain popularity as experience-enhancing technology. In web3 eCommerce, multiple strategies will be even more effective as businesses can integrate all of their operational systems and sales channels to offer customers seamless eCommerce experiences. Brands and businesses can run their dApps without a single point of failure and they can take full advantage of blockchain's features and make their web3 eCommerce business successful.
As a web3 development company, Dappfort offers web3 services for industries and businesses. We provide unimaginable services for your business and assist throughout our journey to success. And if you are in the idea of building a decentralized application for your eCommerce needs, Reach us. Our web3 developers will help you to build your dream app into a full-fledged app.